The History of Heeter's Restaurant!
Look carefully—YES! That is what Heeter's Drive-In Restaurant in Riverside, PA looked like in the 1950's! The establishment's first owner, the Dowlings, sold the business In 1963 to Stuart L. and Barbara Hartman. Later, in 1968, the "Twin Kiss" was bought by Gene and Marian Rothermel, who served up 20 years of delicious treats! (In fact, that is where we went for ice cream when we were little!) In 1988, Lou Pippon bought the well-known eatery and we acquired the property in 2003. We gave the dining area a full 1950's makeover but kept the original part the same for the nostalgic flair. We added a high-quality food menu that serves breakfast and lunch/dinner options along with all kinds of cream ice cream (NOT ice milk) treats! In 2019, we acquired a liquor license and have draft domesticated and craft beers, a fully stocked "take-out" cooler with great selections, and some liquor slushies/drinks served in the spring/summer time.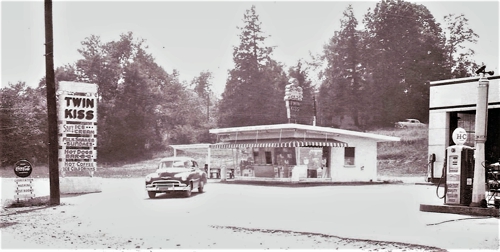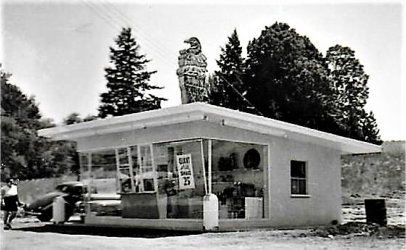 Who are "We?"
Our history section refers to "we"—referring to us as the owners. But, who are "we?" We are the owners, Scott and June Heeter, both born and raised in Danville/Riverside our entire lives of 50 years. Scott is the one everyone knows and sees at the restaurant where June is "behind the scenes" with menu/web designing, fundraising, and ice cream truck events coordinator. Her full-time job (and LOVE) is a First Grade Teacher at the Danville Primary School. Our son, Scotty Heeter, is a graduate of Penn State University and works as a Manager at the restaurant also. We cannot thank the community enough for their patronage and support and have gladly contributed to SO many Danville organizations over the 16 years we have had Heeter's. We look forward to many more years ahead!
Fundraising

We know how hard it is for non-profit organizations to get funds for their activities. We at Heeter's offer a fundraising program for local non-profit organizations—Heeter's hoagie cards. The process is simple—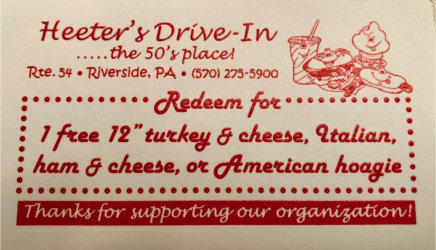 1. Contact June at 570-394-8413 and let her know that you would like to have a hoagie card sale. After a discussion about your organization, a price for each card will be determined.
2. June will send you order forms for the cards that you sell $2.00 above the price we give you.
3. Members of your group will sell the cards and collect the money.
4, Contact June with the total number of cards needed with payment and she gives you the cards to distribute. Patrons buying the cards can stop by Heeter's to get either an American, Italian, or Turkey/Cheese hoagie made to their liking at any time. Best of all—the cards do NOT expire!
Takeout is available anytime we are open. Takeout orders can be submitted online or called in at 570-275-5900.
Delivery is offered at the following times during the day from 11AM to 1PM and in the evening from 5-7PM seven days/week.
Please note: A $2.00 delivery charge applies.
BEER SELECTION
(Wine slushies and other alcoholic drinks vary.)
Domestic Draft Beer
Bottled Beers (12 oz.) Aluminum Beers (16 oz.)
Budweiser, Bud Lite
Coors, Coors Lite
Yuengling Lager
Miller
Michelob Ultra
Domestic Craft Beer
Rolling Rock
Lancaster Strawberry Wheat
Sweetwater 420 Extra Pale Ale (EPA)
Sam Adams Boston Lager
Molson XXX
Troegs Perpetual IPA
Old Forge Paradise Pilsner
Cherry Wheat
Jack Daniels Apple
Jack Daniels Peach
Accepted Payments
Cash, Credit-Visa, Mastercard, & Discover