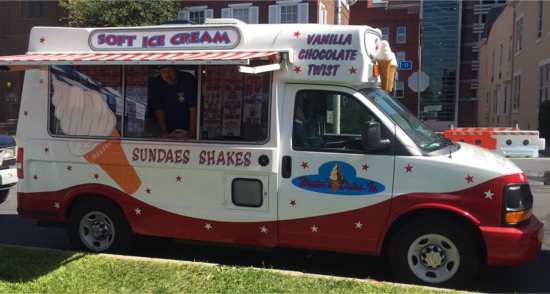 All About the Ice Cream Truck!
Heeter's Ice Cream Truck is an expansion of Heeter's Drive-In Restaurant. The truck, splashed with patriotic colors of red, white, and blue, not only serves a variety of cool, sweet treats, but also rings a nostalgic feeling of the soft-serve trucks from the past. Purchased in Florida in 2013, the truck was shipped to England for the installation of a unique system that enables it to operate without any electrical hook-up or generator. Scott simply pulls up to your event ready to serve high quality delicious treats. It's that easy!
Menu
Heeter's Ice Cream Truck serves only the highest quality soft-serve ice cream (NOT ice milk) that is on the market. Cool cones, creamy milkshakes, frosty root beer floats, delicious sundaes, and name brand novelties fill the truck's menu that has something for everyone. For a complete listing of the truck's current products, just click on the pdf below!
Corporate and Private Events
Heeter's Ice Cream Truck does MANY different types of corporate and private events. Below lists some of the types we do:
Office Parties
Nursing Home Visits
Company Picnics
Car Shows
School Picnics
Weddings & Anniversaries
Church and Parish Picnics
Employee Appreciation Days
Customer Appreciation Days
Birthday Parties
Graduation Parties
Family Reunions
College Events
Fundraising Opportunities (non-profit organizations only)
Fundraising
Heeter's Ice Cream Truck works with non-profit organizations for various fundraising events. The process is simple—Call June at 570-394-8413 and discuss your group and what you would like the truck to attend. After reviewed & approved (including truck availability), we simply come and sell our products and give you 20% of our gross sales after taxes. So easy and work-free for you!
Contact for Events
Heeter's Ice Cream truck knows every event—either private or corporate is unique. Therefore, all events and their specifics are discussed and scheduled through personal contact with June. Are you interested in possibly scheduling the truck? Please call her at 570-394-8413 and leave a message. She will get back to you within 24 hours.
Truck Testimonials
"The Heeters are professional and personable and their ice cream is great! If tastes the way you remember soft-serve tasting—it really hits the spot. I can't recommend them highly enough." –Rick Bryant, Executive Director, Central PA Festival of the Arts, State College, PA.
"Just wanted to let you know that our guys LOVED the ice cream truck. We had a big dinner with all kinds of foods for them as well, but the only feedback we got was how much they loved the ice cream truck!" –Marceen Malaney, Shared Service Administrator, USG, Washingtonville, PA
"You were the hit of the Eagles Mere rehearsal picnic evening! I even heard that from a wedding guest who lives in North Carolina. It was a complete delight to work with you. Thank you! Thank you!" –Ingrid Wood, Mother of the Groom, Eagles Mere